Foundation Gifts of Wheelchair, Orthopedic Mattress Brighten an RCH Patient's Day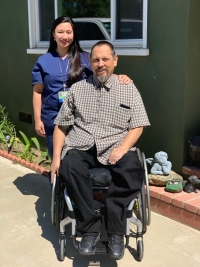 Former patient Paul Flores' quality of life has dramatically changed for the better, thanks to the generosity of Redlands Community Hospital Foundation (RCHF), who presented him with a new wheelchair and a comfortable orthopedic air mattress.
Flores, 49, of Beaumont, became paralyzed in a car accident in 1996 and has been maneuvering himself using an eight-year-old chair whose chassis was repaired several times. He suffers from pressure ulcers, which is the result an old air mattress that no longer meets his needs. The gift of a new orthopedic cushioned wheelchair and the new air mattress will help his wounds heal, and prevent life-threatening sepsis and minimize future visits to the hospital. In short, the devices could save his life.
The Foundation, which often provides generous support for such gifts, designated funds for the wheelchair, a Quickie GT and one of the lightest available. It also provided funding for the Med-Aire Plus Alternating Pressure and Low Air Loss Mattress System.
The wheelchair features a lightweight aluminum frame, open frame design, easily adjustable folding backrest and optional front and rear suspension. It is among the most durable and adjustable chairs in its class.
"I have been working for close to three years to get a new wheelchair," Flores said. "There is a lot of red tape involved."
Designed to prevent, treat and heal pressure ulcers, the Med-Aire Mattress provides alternating pressure and low air loss in order to optimize pressure redistribution. It also offers friction reduction and microclimate control.
Valentine M. Duran, RN, DNP, Transitional Care Unit (TCU) manager for the hospital, said the need for replacement devices was apparent, as Flores became a frequent patient at the hospital, recently requiring nearly 100 days of care in the unit.
"Hospital staff could see that his wheelchair had been repaired a number of times," she said. "He had it welded himself. It became clear that Paul needed something better and more reliable and I am thrilled that RCHF's generously provided the funds that will significantly enhance his life."
Flores, who learned about the gifts in early May, just as he was about to be discharged from the TCU, was excitedly awaiting their arrival.
"I'm so truly happy and grateful for the generosity of the hospital Foundation," said Flores. "It is like a dream come true. I will no longer have to fight to get into the wheelchair."
Duran said the gifts that were presented to Flores aligned with the Foundation's mission and vision in mind: To advance the delivery of exceptional healthcare in the Inland Empire through the acquisition, management and utilization of philanthropic funds for Redlands Community Hospital.
"Whether we are helping one person or many people, gifts such as these lift up the community," Duran said. "If we can improve the health of the community at large, or just one person, we believe we're fulfilling the hospital's mission, vision, and values."
Redlands Community Hospital Foundation is a not-for-profit organization, which supports Redlands Community Hospital, which is a not-for-profit, independent, stand-alone hospital.