Redlands Community Hospital Honors Volunteers
Category: Press Room
Posted On:
Written By:

Redlands Community Hospital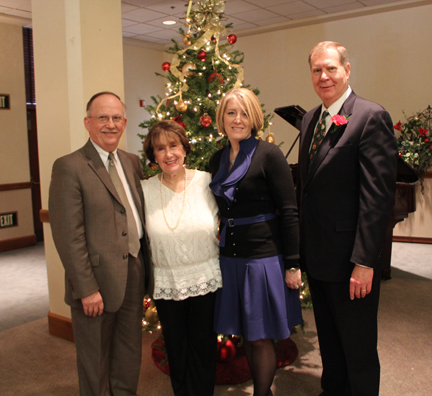 Left to right: Thomas Sutter- Great, great nephew of Mary Kimberly Shirk, Dorothy Taub- 2012 Kimberly Shirk Winner, Tonja Blankenship- Executive director of the Kimberly-Shirk Association, and Jim Holmes, President and CEO Redlands Community Hosptial.
REDLANDS, Calif. – "For more than 80 years, the Auxiliary and its many volunteers have continued to give of themselves to our community," said Jim Holmes, president and CEO of Redlands Community Hospital. "The volunteers have played a major role in our accomplishments over the years and are a valued asset to our patients, visitors and staff."
Volunteers play a vital role in many areas including admitting, the gift shop, nursing units, pharmacy, information desks, emergency services, outpatient service areas, clerical areas and even lend a hand in fundraising through quilting and sewing. Thanks to their dedication, volunteers have helped the hospital with the opening of the Spine and Joint Institute – a new model of hospital healthcare delivery; the expansion of the Surgical Waiting Services with the addition of the In-patient Waiting Room to better accommodate the patient's families; and stroke service.
The Mary Kimberly-Shirk Volunteer Award of Excellence is presented annually to a volunteer who exemplifies the spirit of Mary Kimberly-Shirk, the first member of the hospital's Auxiliary. Members of the Auxiliary and hospital staff were asked to nominate active volunteers for this recognition. Criteria for the nominations included loyalty to the hospital and Auxiliary, enthusiasm for volunteering, energy, compassion for patients and their families and leadership.
Dorothy Taub was selected as this year's Kimberly-Shirk Award recipient. She was honored for her 15 years of service to Redlands Community Hospital and over 6,800 hours of her time and leadership experience. The award was presented jointed by Thomas Sutter, the great, great nephew of Mary Kimberly Shirk, who traveled from Appleton, Wisconsin and Tonja Blankenship, the executive director of the Kimberly-Shirk Association.
The Auxiliary also installed the 2013 slate of officers at the event:
President- Diane Brown
First Vice President- Tom Niblack
Second Vice President- Julie Kennedy
Recording Secretary- Betty DeLeon
Corresponding Secretary- Martha Clark
Treasurer- Caroline Biscotti
"Honoring our volunteers always seems to bring about the true spirit of the season. We are thankful for their assistance, caring and time, volunteering in more than 40 services within the hospital over the last year," added Holmes.
Many of the volunteers have donated thousands of hours of their time to the hospital, including Carol Houston, who has donated over 22,000 hours over the last 40 years.
For more information about Redlands Community Hospital, please visit our website at www.redlandshospital.org or call 909.335.5500
Redlands Community Hospital is a not for profit, stand alone hospital.