Beaver Medical Group Gifts Innovative Wheelchairs to Redlands Community Hospital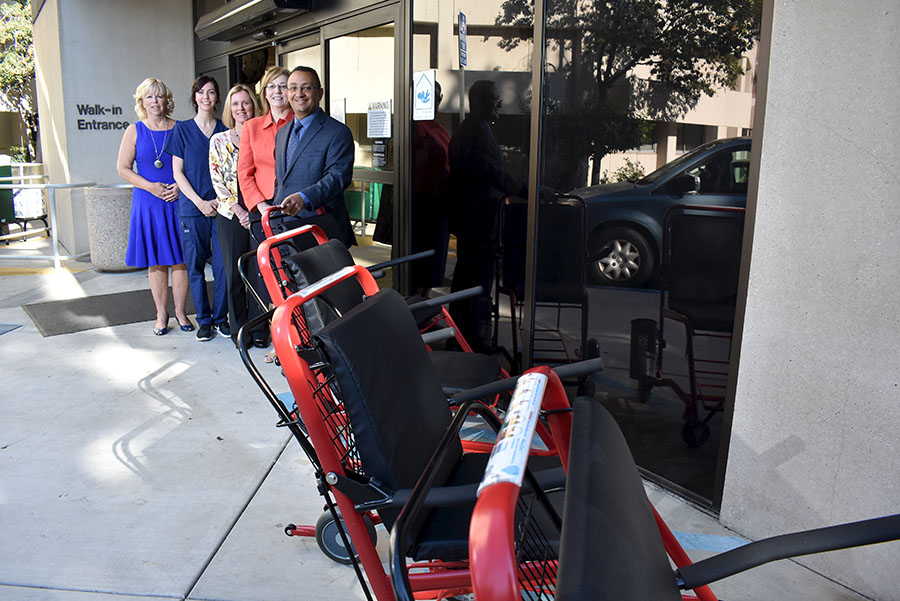 REDLANDS, CA-- Thanks to the generosity of Beaver Medical Group and its their Community Services Committee, Redlands Community Hospital (RCH) has six new wheelchairs.
The chairs were purchased after Beaver Medical approached the hospital and indicated it wanted to support the hospital in a meaningful way. Wheelchairs were identified as an area of need within the Emergency Department (ED) and the funds were quickly provided.
Pam Allen, director of emergency services at RCH, said six user-friendly Staxi wheelchairs were purchased and situated at three locales: near the entrance to the ED, at the ambulance bay and in a rear hallway within the department. The chairs, costing about $1,200 each, are easy to push, are nestable and give the department a handsome, upgraded appearance whether in use or stored.
"They stack one inside the other like a grocery cart," Allen said. "You can imagine how a grocery store would look if the carts didn't stack. That's how the ED might look if our wheelchairs didn't nest." The chairs were added to eight Staxi wheelchairs purchased in 2014, which replaced older, more basic units. Now, all of the department's wheelchairs are similar in appearance, construct and functionality. "What nice about these is they have a side compartment that holds oxygen and they can still be stacked," Allen said.
The chairs are primarily used to wheel patients into and out of the ED. They are in particular demand by those with lower extremity issues, people who are short of breath and stroke patients—RCH is an Advanced Primary Stroke Center as designated by the Joint Commission on Accreditation of Healthcare Organizations. While staff can assist patients as they enter the ED by securing a wheelchair for them, those exiting can easily grasp a chair and navigate out to their car.
"This is very important to us," Allen said. "Patients come to us short of breath, or having chest pain, or with lower extremity discomfort, and if we don't have wheelchairs to assist them, then that creates great difficulty. And, we're an approved stroke center—we need wheelchairs."
Allen went on to add, "We have a great collaboration with Beaver Medical—a high percentage of the patients we see in the ED use Beaver Medical as their primary care provider."
Philanthropy is nothing new to the Beaver Medical Group. Each year the Committee contributes to many not-for-profit organizations while also donating to numerous cultural programs. For more information on Redlands Community Hospital Foundation or to contact any department call 909.335.5540 or visit our website at www.redlandshospital.org.