Foundation-Funded Blanket Warmer Takes the Edge off Radiation Oncology Treatment
Category: Foundation News
Posted On:
Written By:

Redlands Community Hospital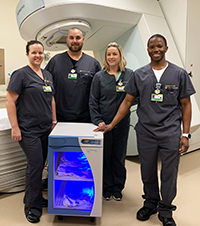 To cancer patients, many of whom have difficulty keeping warm due to various aspects of their treatment, there is nothing more uncomfortable than a cold blanket or a chilly gown.
At Redlands Community Hospital, such hardships are a thing of the past, thanks to a generous gift from the Redlands Community Hospital Foundation. The Foundation recently provided funding for the Radiation Oncology Department that enabled the purchase of an Enthermics blanket warmer for use in its linear accelerator room.
"All the patients we treat have cancer," said Matthew W. Delk, Radiation Oncology supervisor. "Often, the chemotherapy or hormone therapy that patients have undergone compromises their body's ability to regulate temperature. Then, we ask them to remove clothing so that we can get to the area we need to treat. Our treatment room has to be kept cool, and when patients have their temperature mechanism compromised there's nothing more comfortable than a warm blanket over them, a warm sheet under them or a warm gown."
Delk said the idea to purchase a blanket warmer came from the hospital's Women's Health Imaging Center, which was already using one. As he investigated acquiring one for Radiation Oncology he was told there might be funds available through the Foundation. Delk contacted the Foundation, which stepped forward and offered a helping hand.
"They were on board right away," Delk said. "The blanket warmer is definitely a blessing for my patients.
"We're here to help the community by providing exceptional care and this is just another way we can do that. Not only can we do that by providing radiation therapy that cures their cancer, but now we can treat them with as little discomfort as possible."
The warmer, acquired in late May, is whisper quiet and has no moving parts. With a capacity of 10 to 12 blankets, it quickly and efficiently heats blankets to precise temperatures using patented zone heating technology. At the same time, heated shelves ensure that every blanket is safely and evenly warmed by adjusting temperatures throughout the cabinet. The Foundation's gift of $3,700 completely funded the purchase.
According to Delk, some 200 patients per month are enjoying the blanket warmer's benefits, and so far it has been well received. Roughly half of the 50 patients treated per week and using pre-warmed blankets have commented positively—as has Radiation Oncology staff.
"When patients are comfortable and more at ease, it makes our job easier," Delk said. "When patients are nervous or cold it makes treatment tougher on them and more challenging for us. Warm blankets definitely take the edge off and make it more likely they will be compliant with our requests."
The gift was one of several provided by the Foundation during 2019. Earlier, funding provided a wheelchair and orthopedic mattress for a patient in the Transitional Care Unit. Before that, the Foundation financed the acquisition of a birthing simulator and a lullaby system, both for Maternal Child Services. Without Foundation assistance, many aids such as these would go unfunded.
"The Foundation does many things behind the scene, and we in the department are very grateful that they provided funding for this important amenity," Delk said.